Cyclovac Power Unit DL 2015 (2x1.6 Kw)
OverView
Cyclovac Power Unit...
Item specifics
Apartment / Home

House

Watts

2x1600 W

Engine Type

By-Pass

Height

98,9 cm

Recommended Plugs

14
Product Description
Cyclovac Power Unit DL 2015 (2x1.6 Kw)

Alimentação – Alimentacion - Voltage - 220/240V
Potência – Potencia - Power - 2x1.600Kw
Motor - 2
Airflow - 208,5 m3/h
Airwatts - 695w
Depressão - Depression - Waterlift - 4318 mm/h2o
Altura - Taille - Height - 98,9cm
Diâmetro - Diametro - Diameter - 35,8cm
Depóstio - Depot - Tank - 45l
Ruído - Ruido - Noise - 72 db
Válvula de Segurança - Valvula de Seguridad - Safety Valve - Não
Filtro - Filter - Gortex
Saco - Bolsa - Bag - Não
Wi-Fi Module (opc.) - Não
Ecrã - Led/Lcd - Não
Entrada de Ar - Direita/Esquerda - D/E
Expulsão de Ar - Direita/Esquerda - E
Nº Tomadas - Tomas - Inlets - 14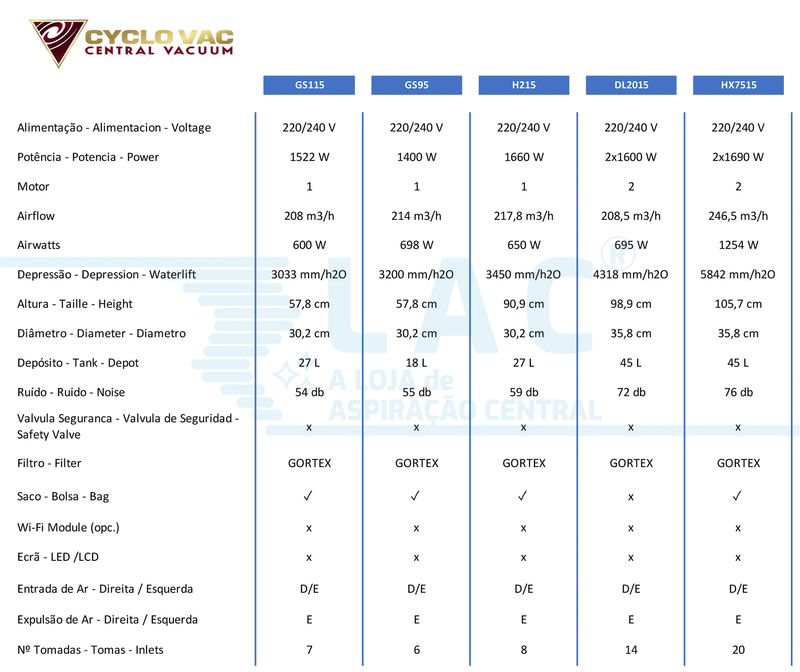 Total estimated delivery time
After confirming your order on Loja de Aspiração Central, you will receive a confirmation email with all product information, prices and taxes.
After we submit your request, you will receive an email again confirming that your order has been sent.
The total time required to receive an order is as follows:

Total shipping time is calculated from the time your order is placed to the time it is shipped. Total delivery time is divided into processing time and shipping time.
Processing Time: The time required to analyse your order and prepare the products for shipment from our warehouse. This includes in some cases, the production or customization of products.
Packaging time: The time required to package the products. This includes the quality control checks when products were customized.
Delivery Time: The time required for product shipment to arrive from our warehouse to your shipping address.
Delivery time may be conditioned by the address you enter in your purchase.
Should you require further information, please contact our customer service.
We would be happy to support you in your purchase.
So Extra Slider: Has no item to show!